Six Tasty Pressure Cooker Recipes
Prosecco and Parmesan Risotto
Ingredients
1 1/2 tablespoons butter
2/3 cup finely chopped shallots
3 garlic cloves, minced
1 1/3 cups uncooked Carnaroli or other medium-grain rice
1 cup prosecco or other sparkling white wine, divided $
3 cups fat-free, lower-sodium chicken broth
2 ounces fresh Parmigiano-Reggiano cheese, divided$
1 teaspoon fresh thyme leaves
1/2 teaspoon grated lemon rind
1/4 teaspoon freshly ground black pepper $
Preparation
Heat a 6-quart pressure cooker over medium-high heat.
Add butter to cooker; swirl until butter melts. Add shallots; sauté 2 minutes.
Add garlic; sauté for 30 seconds, stirring constantly.
Add rice; cook 1 minute, stirring constantly.
Add 1/2 cup prosecco; cook 1 minute or until liquid is absorbed, stirring constantly.
Stir in remaining 1/2 cup prosecco and broth.
Close lid securely; bring to high pressure over high heat.
Adjust heat to medium or level needed to maintain high pressure; cook 8 minutes.
Remove from heat; release pressure through steam vent, or place cooker under cold running water to release pressure. Remove lid.
Grate 1 3/4 ounces cheese; stir in grated cheese and remaining ingredients. Let stand 4 minutes to thicken.
Shave remaining 1/4 ounce cheese, and top with shavings.
via Ann Taylor Pittman, Cooking Light
Pressure Cooker Chili
Ingredients
3 pounds stew meat (beef, pork, and/or lamb)
2 teaspoons peanut oil
1 1/2 teaspoons kosher salt
1 (12-ounce) bottle of beer, preferably a medium ale
1 (16-ounce) container salsa
30 tortilla chips
2 chipotle peppers canned in adobo sauce, chopped
1 tablespoon adobo sauce (from the chipotle peppers in adobo)
1 tablespoon tomato paste
1 tablespoon chili powder
1 teaspoon ground cumin
Directions
Place the meat in a large mixing bowl and toss with the peanut oil and salt. Set aside.
Heat a 6-quart heavy-bottomed pressure cooker over high heat until hot. Add the meat in 3 or 4 batches and brown on all sides, approximately 2 minutes per batch. Once each batch is browned, place the meat in a clean large bowl.
Once all of the meat is browned, add the beer to the cooker to deglaze the pot.
Scrape the browned bits from the bottom of the pot. Add the meat back to the pressure cooker along with the salsa, tortilla chips, chipotle peppers, adobo sauce, tomato paste, chili powder, and ground cumin and stir to combine. Lock the lid in place according to the manufacturer's instructions. When the steam begins to hiss out of the cooker, reduce the heat to low, just enough to maintain a very weak whistle. Cook for 25 minutes. Remove from the heat and carefully release the steam. Serve immediately.
Beef Tips on Rice
Ingredients
3 tablespoons all-purpose flour
2 teaspoons salt
1/2 teaspoon black pepper
1/2 teaspoon paprika
1/4 teaspoon mustard powder
2 lbs top sirloin steaks, cut into cubes
2 tablespoons vegetable oil
2 onions, chopped
2 garlic cloves, minced
1 (10 1/2 ounce) can beef consomme
4 cups cooked rice
Directions
1 Place first five ingredients in a zip top bag and shake well to distribute. Add the beef cubes to the bag and shake until all are well covered. In a pressure cooker, brown the meat in the vegetable oil over medium heat.
2 Once the meat is browned, add the onions and the garlic to the the cooker and saute the onions while deglazing the pan. Once the onions turn translucent add the can of been consommé and stir to combine.
3 Place the lid on the cooker and bring to pressure over medium heat. Cook 25 minutes and remove from heat. Once the pressure subsides open the lid and simmer until the proper consistency.
4 Serve over rice.
Pressure Cooker Carnitas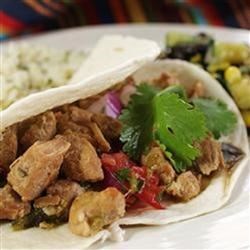 Ingredients
3 tablespoons canola oil
3 pounds boneless pork shoulder, cut into 1 1/2-inch cubes
2 fresh poblano peppers, roughly chopped, or more to taste
3 jalapeno peppers, roughly chopped, or more to taste
1 serrano pepper, roughly chopped, or more to taste
1 large onion, roughly chopped
4 cloves garlic, roughly chopped
2 teaspoons ground coriander
3 teaspoons ground cumin
1 1/2 cups beef broth
Directions
Place the oil into a pressure cooker over medium-high heat. Brown the pork cubes on all sides in the hot oil, and stir in the poblano, jalapeno, and serrano peppers, onion, garlic, coriander, cumin, and beef broth. Lock the lid onto the pressure cooker, bring the cooker up to pressure, and reduce heat to keep the pressure steady.
Cook under medium steady pressure for 1 hour, remove the cooker from the heat, place in the sink, and run cold water over the lid of the cooker until the pressure has been released. Carefully remove the lid, and serve.
Pesce al Cartoccio
Ingredients
4 fillets of grouper or any white fish, fresh or frozen (thawed & drained)
1 lemon, sliced
1 white onion, shaved into rings
3 small potatoes, thinly sliced
4 sprigs of thyme
4 sprigs of parsley
Salt and pepper
Olive oil
Directions
1. Measure out the width of the pressure cooker by putting little creases in the parchment paper before starting. To do this, lay your parchment paper over your pressure cooker, and fold it to fit about one inch (or 3cm) from each side.
2. Use a mandolin on the thinnest setting to get the potatoes and onions really thin. Lay out your parchment paper, and layer the Ingredients in the following order:
1. Swirl of olive oil
2. Single layer of thin potato slices
3. Salt and pepper and swirl of olive oil
4. Fish Fillet
5. Salt and pepper and swirl of olive oil
6. Herbs
7. A couple of onion rings
8. Lemon slices
9. Pinch of Salt
10. Swirl of olive oil
3. Fold your paper packet. Cut a long piece of tin-foil and wrap the paper packet snugly inside the tin foil.
4. Heat two cups of water. Insert the steamer basket. You can cook about two fillets at a time or, if you have a tall pressure cooker, you can make a second layer using another steamer basket or trivet – just make sure that the packets have space all around for the steam to come in contact with and heat them.
5. Close and lock. Turn the heat to high. When pressure is reached turn the flame down. Cook 12-15 minutes at HIGH pressure. Release pressure automatically but DO NOT open the cooker.
6. Let the packets sit in the locked pan off of heat for another 5 minutes. Open the top and take out the packets. Slide the parchment paper packet out of the tin foil onto individual plates.
7. Serve with a pair of scissors or tear the paper opening right before eating.
*Note: Cooking times vary depending on portion size, heating method and other possible variables. We recommend you cook your meal until the minimum time and add additional cooking time if needed for meal completion.
via www.hippressurecooking.com
Clam Chowder
Ingredients
2 dozen middle neck clams, rinsed well
16 ounces clam juice
½ cup of your favorite bacon, diced very small
1 tablespoon olive oil
1 cup yellow onion, chopped very fine
2 garlic cloves, chopped very fine
½ cup celery, chopped very fine
½ cup white wine
1 bay leaf
2 cup yukon gold potatoes, diced medium
2 tablespoon butter
2 tablespoon flour
1½ cups cream
½ cup milk
½ teaspoon Tabasco
Directions
1. Place the clams and a cup of chicken broth in your cooker in a steamer basket. Close and secure the lid. Bring to pressure on high heat. Reduce from high to low and cook for 4 minutes at high pressure.
2. Quickly release pressure using cold water method. Remove clams and set aside. Strain the liquid through a mesh strainer and set aside as well.
3. Wipe out the pressure cooker and add the bacon on medium heat with the oil. When the fat begins to render from the bacon, add the onions and cook stirring for 2-3 minutes.
4. Add the garlic and celery and stir for another 3 minutes. Add the white wine and cook until reduced by ½ of the way down. Pour in strained clam broth and add the bay leaf and potatoes. Close and lock. Bring to pressure on high heat. Lower the heat to medium and cook for 4 minutes at high pressure.
5. Meanwhile, in a small sauté pan, heat the butter on medium heat, when it melts lower the heat and mix in the flour, stirring constantly until blended well. Set aside.
6. Quickly release pressure using cold water method. Uncover and place the cooker back on the stove at medium heat.
7. Add the roux with a whisk until blended into the soup. Add the cream, milk, potatoes and Tabasco. Allow to heat through and add the clams and season with salt and pepper.
via Fagor America